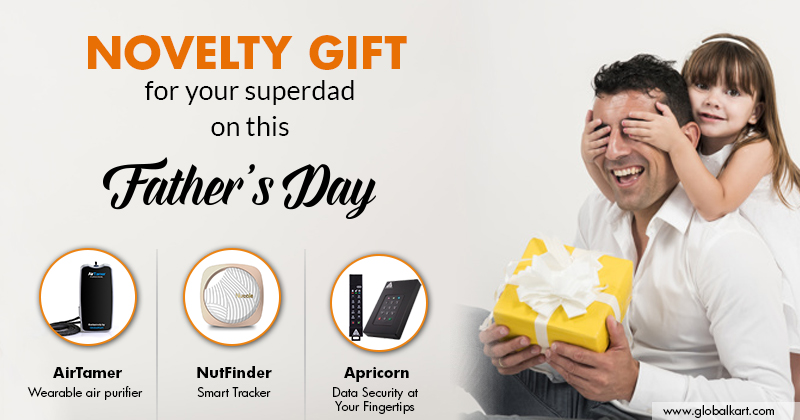 Think Outside The Box With These Unique Father's Day Gifts For Dads
With Father's Day 2019 just around the corner, it is time to start racking your brain about what to get your old man that isn't the usual cologne or aftershave. To celebrate the main man of your life, here are some unique Father's Day gift ideas that will surely put a smile on his face:
AirTamer Air Purifier

: The AirTamer A310 is an electrostatic personal air purifier that is compact and quintessential in today's age of increasing air-borne pollutants like viruses, bacteria, seasonal pollen, smoke, allergens and dust mites.

Its silent operation and absence of filters to clean or replace, along with a runtime of over a hundred and fifty hours and it's rechargeable battery make this

Wearable Air Purifier

extremely convenient and invaluable addition to one's daily routine.

It further sport

s an attractive design, user-friendly interface and state-of-the-art electrostatic purification system to provide an enhanced lifestyle.

The only purifier to have been lab tested to clean away viruses and pollutants alike, the

AirTamer Air Purifier

is not only an exciting concept but it also encourages a healthy lifestyle, which makes it an ideal present for

Father's Day 2019

.
Nutfinder Smart Tracker

: Another viable choice for

Father's Day 2019 is the Nutfinder Smart Tracker. This year, surprise your Dad with the world's smallest and lightest live GPS tracker.

Compact and powerful, the Nutfinder is a user-friendly and simple solution for real-time positioning that enables one to keep track of their pets, bikes, and luggage – in a nutshell, anything that is mobile. The Nutfinder ensures that one does not forget

the things that matter. When your Dad receives it as a present on Father's Day, a gift so thoughtful, he too will never forget how much he matters to you.
Aegis Devices: Unique Father's Day gifts also include the Aegis family's Secure Key. It is an award-winning hardware encrypted USB storage device and is the first of its kind in our country. It exhibits, among other beneficial features, programmable PIN protection and the option of self-destruction if it ever finds itself in a physically compromising situation. This device will act as a lifesaver to your father and help him store confidential work-related information with no additional worries about security. Moreover, the Aegis devices have numerous options to select from, thus you are bound to find the perfect present for your workaholic and/or a tech-savvy old man.
With a pick of any of these groundbreaking products, you can say goodbye to clichéd holiday presents and invest in a lifetime of convenience and enhanced lifestyle. We at GlobalKart wish all the fathers – the ordinary men turned superheroes through love – a very Happy Father's Day 2019!
Aegis Devices
AirTamer Air Purifier
Father's Day 2019
Happy Father's Day 2019
Nutfinder Smart Tracker
unique Father's Day gift ideas