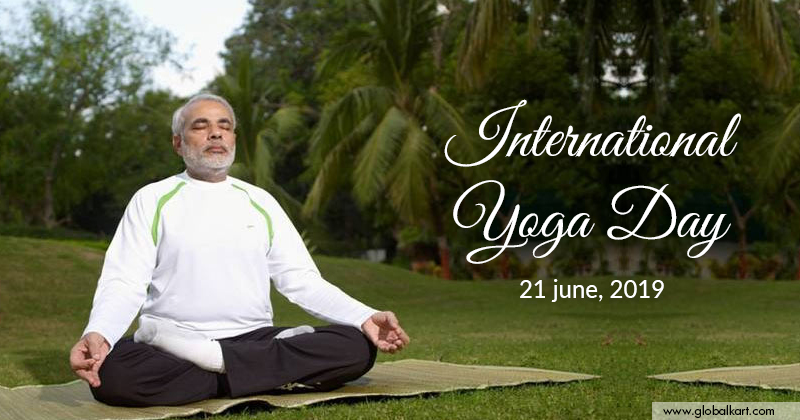 INTERNATIONAL DAY OF YOGA 2019
The world Yoga, derived from Sanskrit, means to join or to unite. It symbolizes the union of body and conscience. Yoga is an ancient, mental spiritual, and physical practice that originated in India, and is now recognized worldwide. Similarly, India pioneered International Yoga Day. During the Ministerial speech at the United Nations General Assembly (UNGA) on September 27, 2014, India's Prime Minister Narendra Modi proposed the idea of celebrating International Yoga Day.
Mr. Narendra Modi said, "Yoga is an invaluable gift of India's ancient tradition. It embodies the unity of mind and body; thought and action; restraint and fulfillment; harmony between man and nature; a holistic approach to health and well-being. It is not about exercise but to discover the sense of oneness with yourself, the world, and nature. By changing our lifestyle and creating consciousness, it can help in well-being. Let us work towards adopting an International Yoga Day."
In his speech, he eloquently stated the essence of yoga and appealed to the world to make yoga a part of their everyday lives. Within three months succeeding this, on December 11, 2014, the UN declared June 21 as International Yoga Day. It is a groundbreaking record in itself that a country proposes an idea in UNGA that gets approved by the UN body within the first 90 days.
WHY WAS 21ST JUNE SELECTED AS INTERNATIONAL YOGA DAY?
June 21 was suggested by Prime Minister Narendra Modi as this day coincides with the summer solstice, the longest day of the year in the northern hemisphere. The summer solstice symbolizes the transition to Dakshinayan. Guru Poornima is celebrated on the second full moon after the summer solstice. It is believed that Shiva, the first yogi, begun conveying the knowledge of yoga to humanity on this day and became the first guru (Adi Guru). It is also believed that people pursuing spiritual practices receive natural support on this day.
First World Yoga Day or International Yoga Day was celebrated on June 21, 2015, with great fervor worldwide in spite of adverse weather conditions witnessed in many parts.
THEMES OF THE YOGA DAY
The day was commenced with a new theme each year, raising interest and awareness among people about including it in their everyday regime. The theme was "Yoga for Harmony and Peace" in 2015, "Connect the Youth" in 2016, "Yoga for Health" in 2017, and "Yoga for Peace" in 2018. Keeping in mind the present global conditions, the theme for International Day of Yoga 2019 is set to be "Climate Action".
Maintaining the ancient tradition, the venue for the International Yoga Day 2019 will be the United Nations, to be hosted on Thursday, June 20 with the theme "Yoga with Gurus," followed by an expert panel discussion on Friday, June 21.
HEALTH BENEFITS OF YOGA
Yoga slows down the aging process by stimulating detoxification.

It cures insomnia by relaxing your body and banishing stress by centering practice like deep breathing, allowing you to focus on things at hand.

It raises your self-confidence through small movements and makes you aware of your body.

It trains your mind to make informed decisions as yoga involves controlled movements.
YOGA DAY KEY TAKEAWAYS
Practicing Yoga In Natural Environment

Practice in the open, like at the beach, park, or a backyard where you can inhale ample amounts of fresh air.

All Inclusive

Yoga Day is appropriate for all, irrespective of his/her age, nationality, cast, creed, social background, or fitness level.

Creating Your Yoga Movements

You can discover new movements, synchronize them with music that will help you focus on breathing correctly.

Introducing Yoga to New Partners
Including a friend during yoga practice can motivate you, inspire you to strengthen your poses, as well as spread awareness for yoga.
YOGA FOR ASTHMA PATIENTS AND AIRTAMER AIR PURIFIER
An essential prerequisite of reaping the benefits of yoga is to practice yoga in open, natural environments so as to be exposed to ample fresh air. This is especially beneficial for asthma patients. Studies have showed significant improvement in lung function and reduction in asthma symptoms in patients who practice yoga daily. Savasana, forward bending, and butterfly are some of the poses that can be practiced by asthma patients for an enhanced lifestyle.
However, If your asthma is chronic, practicing yoga may prove to be difficult. In severe cases like asthma attacks, medications prescribed by your doctor should be given utmost importance. The problem gets compounded if you are allergic to allergens and air irritants. In such circumstances, it will be in your best interest to use a high-quality personal air purifier, such as the AirTamer A310, which is convenient for both indoors and outdoor use.
The AirTamer Air Purifier is a universally acclaimed air purifier that helps remove irritants from the air in your breathing space, wherever you go. With the AirTamer Personal Air Purifier tied around your neck, you can rest assured that unwanted asthma attacks will not mar your International Yoga Day celebration on June 21. So seize this holistic approach and carpe diem!
INTERNATIONAL DAY OF YOGA