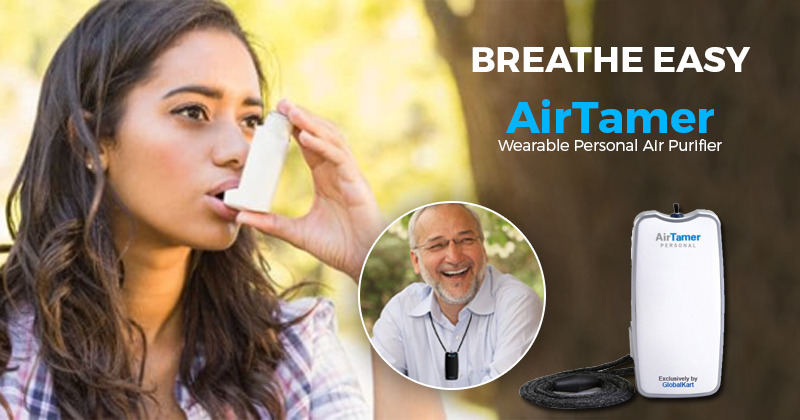 Are you suffering from Asthma? Breathe Easy with AirTamer, personal Air Purifier.
Asthma is a chronic, long term condition which obstructs the airways and makes one difficult to breathe. And, to our astonishment 1 in every 10 Asthma patients in the world is an INDIAN which means India has around 10% of World's Asthma patients which is approximately 2 crores.
WHO has estimated that a maximum number of bronchial Asthma patients occur only in India. And the major risk factor for this growing number is our chronic exposure to indoor and outdoor Air pollutants. Allergic Asthma can affect people of all the ages, from a child to an elderly. Awfully, it is becoming a common chronic disease amongst children also.
There are many types of Asthma disease which can trigger every person differently. It can be a cough variant, Aspirin-sensitive, exercise-induced, occupational or emotion-related Asthma. No matter what type of Asthma symptoms you have, your airways are crying for help which should be taken care of immediately.
Types Of Asthma may also vary from person to person. Asthma symptoms can be such as coughing, sneezing, and breathlessness and if not taken due care of it can get worse in some time or even cause more severe Attack
Every person suffering from Asthma condition has their own trigger points and symptoms. One should track the symptoms, record their lungs function and accordingly should adjust the treatment. It can include long term medications and can require quick-relief inhalers. This is a radically controllable disease which can only be lessened by knowing your triggers, carrying all the prescriptions and recognizing its early signs.
Effects of Asthma disease can be seen on people of all the age bracket, hampering daily activities, loss of school and work, posing an inauspicious burden on social and economic life with a reduced quality of life. Young children have the highest risk of developing Asthma which can last beyond 6 years of age. Asthma problem is even risky for older Adults who can more likely to develop respiratory failures due to Asthma causes are actually unknown and can vary from person to person. It is a response of the immune system to the Allergic environment. Exposure to cigarette smoke can affect your lungs and respiratory system. At the early age of life exposure to different microbes can affect the development of the Immune system also. If working in an environment with chemical irritants and industrial dust, it can also increase the risk of developing Asthma. Some signs and symptoms can develop over the years and can last even when you are not exposed to such an environment. Poor air quality due to air pollution can even worsen Asthma problem. Allergens in the air include Pollen, dust and other air particles.
Prevention is always the foremost thought for people suffering from Asthma. For further prevention and best cure, one should always carry their proper prescribed medications. Along with you should do anything to avoid your triggers whatever they may be. The best and easiest way to stay away from those Allergens and Air pollutants are if you can have a Personal Air Purifier. YES, the first time in India we have got you AirTamer A310, your personal air purifier which can be carried both indoors and outdoors. It removes all the irritants from the air around you so that even a person with severe respiratory issues can also enjoy outdoors. One cannot carry an air purifier when outdoors. Here with AirTamer you just have to wear it around your neck and it creates a 3 – foot sphere of cleaner breathing space around your head which help you in breathing a cleaner air anywhere, anytime. We at AirTamer are here to help you breathe cleaner air and lead a better quality of life.
AirTamer
Asthma
Asthma symptoms
Personal Air Purifier